"

Adam is currently skating all by himself. He's an amazing skater, but I'm sure he's not happy right now. That's why his skating ends up that way. But you know, we're not alone. Right, Kaoru?
"
 
Kojiro Nanjo (南城 虎次郎, Nanjō Kojirō?), known in "S" as Joe (ジョー, Jō?) is a character in the SK8 the Infinity anime series. A skilled skater and founding member of "S", he uses his unique build and stature to skate in an aggressive, movement-orientated fashion.
Appearance
Kojiro is a tall, muscular man with slightly tanned skin and wavy hair of a dark forest green, short aside from a small section at the back of his head that reaches down past the base of his neck. He has red eyes that slope gently outwards as well as a black, sun-shaped abstract tattoo on his left shoulder, and is most always seen wearing an easygoing expression. Outside of "S", his usual attire consists of plain jeans and an orange and white striped shirt, though he's also been seen wearing a different array of dark colored T-shirts and other colored shirts. When working at Sia la luce, he wears a white double-breasted chef's top and black pants, a long, dark red apron tied at his waist.
As Joe, he wears only a pair of plain baggy white pants and a white and blue jacket with an orange lining, left unzipped to reveal his torso. He also sports black fingerless gloves and a number of dark bands around his neck and waist, and wears the longer section of his hair in a low ponytail.
During his high school years, Kojiro had shorter hair and was much less muscular than he is now.
In his clothing choices he showns a lot of skin, the reason why he's always undressed isn't because he has so much muscle that it's uncomfortable for him to wear tight clothing. His clothing no matter how beat up are brand named, always trying to dress for his best. [4]
Gallery
Personality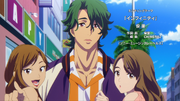 In "S", he seems to be a playboy who likes to charm and have fun with many women. This is shown in the beginning of episode 1 when he kisses 2 girls at the same time and episodes later, is seen flirting with countless girls.
Despite his aura of hostility towards Cherry Blossom, they are good friends; who has the upmost trust in each other and their abilities. He is shown to deeply care for Kaoru, being the person Kaoru sneaks out of the hospital for after he's injured, and the one who carried Kaoru when he passed out after Adam's attack. Kojiro and Kaoru have been shown to be close, using each other's first names alongside the childhood friends aspect. Kojiro is extremely loyal to Kaoru and likewise for Kaoru.
Kojiro has a "papa bear" mentality, and appears as a father figure to the younger boys, offering words of advice, and noticing when things are off about them. He is very open-minded and kind towards the younger boys trying to help them whenever he is able to.
He helps Reki overcome his doubt and often comes to find him when he's worried that he's doing something reckless. He speaks to Reki when he's down, trying to help him with his self-worth. He notices the small things in the younger's behavior and his playboy persona sheds as he shows his support. He also not only helps Reki, but helps Langa with the rekindling of his friendship with Reki.
He often has a teasing aspect of his entity, but beneath the playboy persona, he is a very loyal, watchful, and relaxed person who enjoys helping others.
Abilities
Joe is one of the strongest skaters in "S". Having been into the sport since his teenage years,[5] it can be inferred that he's spent a lot of time honing his skills even into his adult life. He's well-known in "S" as the 'Six-Pack Skater' due to the unusual, strength-orientated style he uses when skating.[5]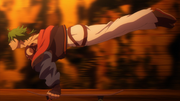 General Prowess: A skilled skater and a founding member of "S", Joe has been shown to be a proficient skater capable of dominating most every race he's challenged to,[6] even wrangling himself up an "S" fanclub in the process.[7] He's able to skate along "S"'s dangerous tracks and perform dangerous tricks with ease thanks to the absolute control he has over his body, which, when added to the raw amount of skill he's been seen to have, makes him a very formidable opponent in beefs.[6]
Unique Style: Joe skates in a style which takes full advantage of his large and muscular build, and that would be considered reckless if it came from any other skater. He uses his unique strength to overcome difficult terrain, shown using only his legs to propel himself off a wall and a girder while going full speed.[5] He includes biking moves into his style such as the superman in which the person will plank to gain speed by being more aerodynamic; without the bike handles or seat to hold onto he uses his brute strength alone to suspend himself above his board.
Background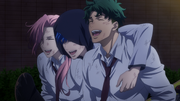 Kojiro has been skateboarding since he was a teenager alongside Kaoru; his childhood friend. He and Kaoru met Adam when Kaoru challenged Adam to a beef, and the three soon became inseparable friends, Adam even telling the two that they were special and different to everyone else he knew.[5] At some point they formed "S" together. It was during his time with the pair that Adam began to spiral out of control, which concerned Kojiro as he and Kaoru kept stumbling across him injuring other skaters during beefs.[6] Adam then suddenly left for America, abandoning the two, which affected them a lot.[8]
This is the reason for Kojiro and Kaoru's bad blood with Adam, and the explanation for why they want to beef against him so badly; they feel betrayed by their former friend.
Kojiro grows up to become a professional chef, opening his own Italian restaurant, after studying culinary in Italy. Opening his own resteraunt after returning back to Japan called Sia la luce.
Even as an busy adult and chef, he still dedicates a lot of his time to skating alongside Kaoru at "S". He is among the top skaters of "S".
He appears as laidback and flirty but underneath that he is very attentive and worrisome for his friends. He is shown constantly trying to indirectly protect Reki and the others; from other people and from themselves. He is seen as figure of respect and advice to the youngers.
Appearances
Trivia
Kojiro's name contains the kanji for "south" (

南

nan

?

), "castle" (

城

jō

?

), "tiger" (

虎

ko

?

), "next" (

次

ji

?

) and "son" (

郎

rō

?

).
Joe's Zodiac sign is Cancer.
He is a "regular" skater, meaning he prefers to skate with his left foot at the front of the board.
He doesn't wear many clothes to bed since his muscles keep him warm.[9]
He has been friends with Kaoru since kindergarten.[9]
He would give a homemade white day gift and take a partner out on a proper date.[9]
He is popular with women.[9]
Joe would have participated in the Coming of Age day in Okinawa and would have dressed up in a flashy outfit.[10]
He has his future plans most firmly sorted out, though there is a part of him that's amiable to taking things as they come.[10]
He is able to see the fun side even when he makes a mistake and is the most responsible adult of the group.[10]
He would not like a surprise proposal. He would not like a grand reception. He would want "see ya" kisses everyday. He would want to go to Italy for his honeymoon. He'd be helpful, supportive, and patient with his spouse. He likes to live it up pretty hard and doesn't have a lot of money, so his spouse would have to handle the finances.[11]
His favorite food is acqua pazza.[12]
His hobby is going on eating tours.[12]
Joe is 1 on Joe's rankings of the muscles of S. Joe's comment: They all still have a long way to go. Food and muscles must both be cooked on a low flame. I'll always be waiting for you, ciao.[12]
Joe is 50% on Adam's Passionate Love Parameter, how much passion he has for each skater. Adam's comment: He's always done a lot of power tricks, but you guys never change.[13]
Joe's daily schedule when there's no S:

7:00-7:30 - Wakes up, goes jogging, strength training (Muscles are nurtured with healthiness)
7:30-8:00 - Showers, has breakfast
8:00-9:00 - Stocks restaurant
9:00-12:00 - Prepares for lunch service
12:00-15:00 - Opens for lunch
15:00-16:00 - Lunch service ends
16:00-18:00 - Prepares for dinner service (Around this time Reki and the others might show up and he'll end up feeding them)
18:00-23:00 - Opens for dinner
23:00-24:00 - Closes shop, prepares for next morning
24:00-25:00 - Work out, shower
25:00 - Drink protein, sleep

Joe would go to a summer festival for a summer date. He's a party person and will have fun eating and walking, and he may just want to spend time with girls wearing yukatas. If there was unexpected rain, he would laugh it off with his date and take his shirt off to show off his muscles.[14]
Since enjoying himself is most important, Joe's fashion sense involves showing a lot of muscle when he goes out. It's more that he has so much muscle that clothes become uncomfortable rather than he's confident in his body. Joe probably doesn't carry around a bag, but instead just his wallet in his pocket and his skateboard. For a date, Joe is always wearing his best clothes since he's meeting people every day. Joe would like things not normally seen, like casual clothes worn around the house to relax. He likes fashionable clothes too, but the loose and defenseless look would be attractive to him. Joe probably has a favorite clothes shop where he's friendly with the staff. Since he hangs out with a lot of girls he probably doesn't buy cheap clothes, but instead wears brand names, even if they're beat up. For a date, he would do anything his partner would want to do even if he doesn't have money like Cherry does from all his playing around, but if it seems too expensive he would try to direct them to a more light location like a casual bar. He'd let his laundry pile up and do it all at once. If someone snapped a picture of him on the street, he'd smile and be carefree and make manly poses.[15]
Joe probably figured out Santa isn't real early from his classmates telling him, and when he'd tell Cherry, who was all proud about the presents he got, they'd fight. Before loving skating, Joe would have wanted rider toys popular with boys, but his family was probably not well off, so he most likely got soccer balls and basketballs for Christmas.[16]
Joe's omotenashi would include serving his guest a full course Italian meal with individually picked ingredients to suit the guest's taste. Joe has Cherry taste-test all his Italian food because he is critical about taste and would be honest with his thoughts. Joe is good at cooking and serving, but sometimes reckless with money coordination.[17]
Kojiro dislikes anko/red beans and sweets.[1]
Joe's tournament card is the Three of Diamonds[18]
References